DC13 - Head Start Student Data Collection¶
Head Start Student Data Collection¶
DC#13 is the head start data collection, it is designed to measure headstart participation and how that participation interacts with participation in other services : Universal Prek, Part B and Part C special education services.
What belongs in Your DC#13_PreK Submission?¶
All students with their enrolling org information, grade, demographic info and attendance.
All educators with their employing org and place of service info.
All course information (educator and student)
Confidentiality Issues to Consider¶
This data submission contains confidential information about students. Accordingly, the VT Agency of Education adheres to the Family Educational Rights and Privacy Act (FERPA) - 34 C.F.R. Section 99.31. FERPA allows for the collection of data required to do the work of state and educational agencies. The principle of confidentiality underlies all policies and procedures for the collection, maintenance, disclosure and destruction of education records. Schools and districts also have a responsibility to protect the confidentiality of student records. Please be sure that proper policies and procedures are in place, and followed, to successfully complete this data submission.
Please do not email identifiable student information to the AOE.
Submission Files to Upload¶
Each submission (aka flat file) must be named according to the submission name – and must be a csv file. (example: HS1_Child_Identity.csv) The Headstart_id must be a valid code. See 2_HeadStartDataSpecV9.xlsx for a list of valid codes. The PK_ID must be a valid code as assigned by AOE.
Submission: HS1_Child_Identity¶
This submission must have a record for every child enrolled at any point during SY
This file is used for the match colleciton at the start of the process
Submission: HS2_Enrollment¶
Each record in this submission must have a record in HS1_Child_Identity
Submission: HS3_CLASS¶
Each headstart_id/pk_id must have one record for each class (aka unique service level offered) during the SY.
The data submitted includes total number of weeks of services for this "class", the total days per week and the total hours per day.
The data collected in this submission will be used (along with enrollment information) to calculate the total possible days/hours of attendance for Each child.
Submission: HS4_CHILD_CLASS_ASSIGNMENT¶
Each enrollment instance (HS2_Enrollment) for each child must have a record in this submission.
Each class record(HS3_Class Submission) must have at least one child assigned to it.
Submission: HS5_CHILD_AGG_ATTENDANCE¶
If this submission is provided, each enrollment instance (HS2_Enrollment) for each child must have a record in this submission that contains the total actual days attended and total days absent.
Submission of this table is optional as some providers were unsure if they could provide it.
edFusion How-To Video Training¶
To help guide data coordinators through the steps outlined below, the following video shows where in edFusion the PreK Match and PreK Submission files should be uploaded: https://www.youtube.com/watch?v=AHHCX72d4Qs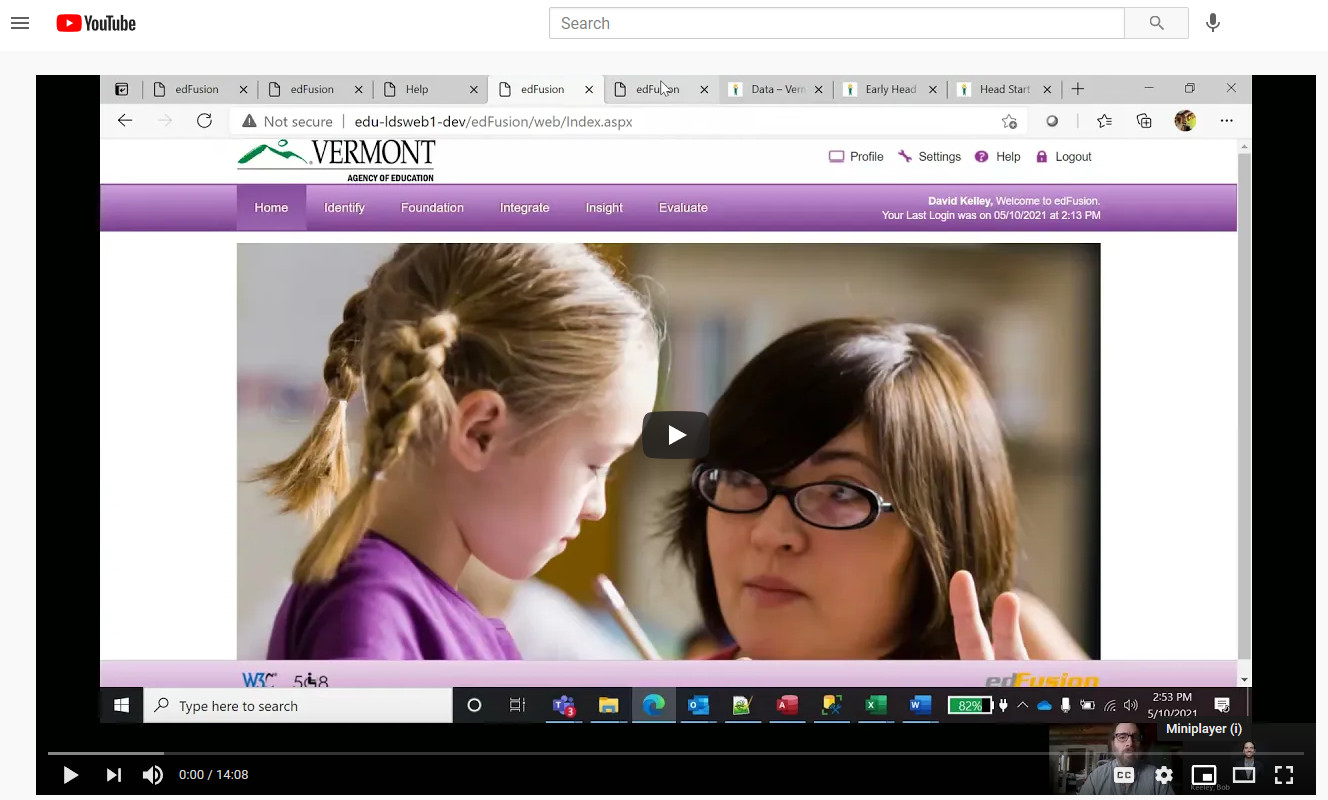 This How-To video reviews the steps for matching PreK data and then submitting PreK data in edFusion (Vermont's State Longitudinal Data System). A transcript of this video is available upon request to AOE.SLDSSupportGroup@vermont.gov
Head Start Regional IDs¶
| HEADSTART_ID | HEADSTART_NAME |
| --- | --- |
| HS001 | UNITED CHILDREN'S SERVICES, INC. |
| HS002 | RUTLAND COMMUNITY PROGRAMS, INC. |
| HS003 | CHAMPLAIN VALLEY OFFICE OF ECONOMIC OPPORTUNITY, INC |
| HS004 | CAPSTONE COMMUNITY ACTION |
| HS005 | NORTHEAST KINGDOM COMMUNITY ACTION, INC. |
| HS006 | SOUTHEASTERN VERMONT COMMUNITY ACTION, INC |
| HS007 | BRATTLEBORO TOWN SCHOOL DISTRICT |
Head Start PreK Submission Upload¶
Use the Submission Upload tool to load district-level submission files into the system. To upload a file:
On the Data Transport landing page, click Submission Upload. The Submission Upload page displays.

The PreK Submission domain is the only available option from the Domain menu. Submitting Org will display your access to the system.

Click Choose File and navigate to the file you would like to upload. The system performs an initial check to confirm that all of the required columns are present and the file name matches one of the names of the approved templates. The page updates to display the file you have selected and an icon to indicate whether the file was accepted or rejected.


Upload Page, File Selected 4. Wait until all files are a solid green. Click Upload to upload the file to temporary storage. 5. File Upload Success message displays

NOTE: If your file does not list data using the columns and headers in the required template, an error message displays and you will not be able to upload your file. Click Download Template to go to the Download Templates page and choose the correct template. Once you have formatted your file, return to the File Upload page to re-attempt the upload.

Choose when you would like to import the file into the data stores:

To run the upload immediately, click Schedule Now
To run the upload at a later date:
Select the date you wish the upload to run from the Schedule Date field
Select the time you wish the upload to run from the Schedule Time field
Click Schedule
The page updates to display a confirmation message.
Glossary¶
Codeset: A list of allowable values that may be submitted in a data element.
Composite Primary Keys: A combination of two or more elements in a submission that, taken together, uniquely identify a single row or record. This determines the 'granularity' of the data. (Note: All submissions use composite primary keys versus a single primary key.)
Data Collection: A collection of one or more predefined groupings of submissions to the state via a vertical reporting mechanism.
Data Element: A specific field in which data is collected.
Granularity: The level of detail of a set of detail. Granularity for a submission is defined by the composite primary keys of a submission.
Local Data Reporting Manager: For the purpose of this document, local data reporting manager refers to the person(s) responsible for managing the data in the local student information system. This person should be an expert on the data within the system. This includes understanding how the data elements are defined, primary key usage and knowledge of codesets and reporting requirements.
Optionality: Refers to whether a data element is classified as one of the following:
a. Mandatory (M): A value must always be submitted for this data element.
b. Optional (O): A value may or may not be submitted for this data element.
c. Conditionally Mandatory (CM): A value is required to be submitted for this data element under certain conditions. This is usually related to the value of another field. For example, in the 4_PS_Enroll submission, the field "EXITTYPE" is mandatory if the "ENRENDDATE" field is not null. If "ENRENDDATE" is null, then "EXITTYPE" may be submitted as a null value. (Note: Optionality is defined by data collection. This means a given data element may be "Optional" in an unofficial collection – but mandatory in an official collection.)
Official Data Collection: A data collection that is implemented with more stringent business rules (than unofficial collections) because the data will be used for required state or federal reporting. An example of an official collection will be the data collection that supports the ADM calculation. Given that ADM is used for education funding, the data that is used to calculate ADM will be subject to a higher level of business rules enforcement than the same data submitted through unofficial collections.
Submission: A group of data elements as captured at a granularity that is defined by composite primary keys.
Vertical Reporting: Refers to the automation of the transfer of data (via a data collection) to the state from a supervisory union/supervisory district using SIF or Flat File format. Vertical reporting is intended to greatly reduce the manual effort currently required to meet data reporting requirements.